Indoor plants are the ultimate office hack! Not only do they add a pop of nature to what can be a pretty bland space, but they've actually been proven to reduce stress, increase productivity and prevent sickness.
That's why, to celebrate Employee Appreciation Day, we've gifted each member of the Intaso team a beautiful indoor plant to bring some positivity to their work day! Along with their plant, they also received a personalised notebook, delicious HIP chocolate, and a mandatory half-day this Friday to celebrate Employee Appreciation Day.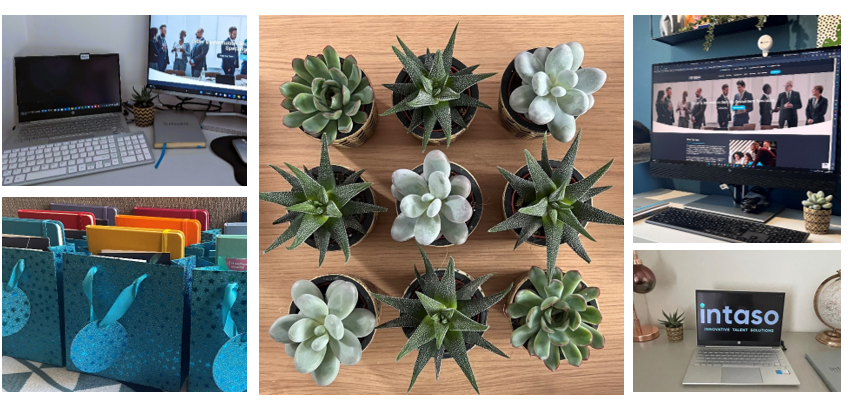 But what is it about indoor plants that makes them so great in an office? According to a 2010 study, plants introduced to office settings significantly improved the stress levels of those working in that office, as well as reducing symptoms such as headaches, sore eyes and loss of concentration.
Plants in the office reduce stress.
Have you noticed you tend to feel a lot calmer when around our leafy-friends? Being outside is so important for our mental health but those working a full-time job can struggle to find time to spend outside, and the British weather means that the time we do spend outside can be pretty miserable anyway! Incorporating plants into the office and other workspaces is a great way to feel reconnected with nature, with one study reporting that interacting daily with plants helps to reduce psychological and physiological stress.
Plants in the office increase productivity.
The 2015 Human Spaces report, which studied over 7,500 office workers across 16 different countries, found that 58% of people have no live plants in their workspaces. However, people who have incorporated plants and other natural elements into their working environment reported a 15% higher well being score, and a 6% higher productivity score than those who hadn't! This is attributed to the positive psychological effects plants have on us when we're working, like feeling connected to nature, and the calming and relaxing effects they have on the mind.
Plants in the office purify the air.
Research from the University of Technology Sydney Plants and Indoor Environmental Quality Research Group discovered that indoor plants can help reduce carbon dioxide levels by about 10% in air-conditioned offices, and by about 25% in buildings without air conditioning. Plants are also great at removing certain harmful chemicals that may be found in there, like benzene, trichloroethylene, and formaldehyde. The science has spoken; the air in a room full of plants is much cleaner than without them!
Here at Intaso, we think that a little bit of office greenery is a great way to plant a smile on the faces of our teams! You can find out more about the Intaso team here, or follow us on LinkedIn to see more from us about Employee Appreciation day!