One of the very few benefits that came from the global pandemic is the realisation that many office functions can be performed from the comfort of employees' own homes. Remote working comes with a wealth of benefits to most employees, allowing team members to avoid the often stressful daily commute; save costs on travel, eating out and childcare; give more flexibility to their schedules; and can even lead to a more productive work day.
But you can't have the rainbow without a little rain, and remote working has proven to have downsides that can seriously impact the mental health of those who choose, or have been told, to work from home (WFH). For many workers, the lack of division between work and home spaces has completely blurred the lines between personal and professional lives, with 52% of people reporting to work longer hours when working from home.
This 'always on' culture, combined with a lack of social interaction can lead to feelings of isolation and negatively affect the mental health and wellbeing of your team, particularly those struggling to maintain a healthy work-life balance. No matter where your team is located, it's your responsibility as an employer to ensure their wellbeing, and this includes mental wellbeing.
A productive work environment is conducive to a business that promotes a healthy mental attitude. When not taken seriously, it can lead to burnout, poor decision-making and lack of concentration from team members, affecting their professional abilities alongside their personal lives.
There is no right or wrong approach when it comes to supporting the remote members in your team. When employees are working remotely, you'll need to take different measures to make sure you're supporting your teams in the right way. Here at Intaso, we're proud to work alongside exhale global to ensure the wellbeing of all our team members, those operating in the office and remotely.
"Hannah did an unbelievable job working with the whole team and I for a dedicated week that focussed on the importance of our own mental health and wellbeing earlier this year. It's a partnership we're excited to continue."

Sam, Director of Operations at Intaso
exhale global uses mindful techniques and neuroscience theory to enable people to exist, survive and thrive in today's highly connected world. We've collaborated with Hannah Tufts, founder of exhale global to bring you this guide on supporting your remote workers' mental health.
Establish clear boundaries between work and home
Although removing the daily commute is seen as a main bonus of remote working, when you no longer have the physical divide of travelling between different locations, it can be difficult for employees to separate work and personal time and spaces.
"We've found that those who lack a dedicated work space at home find it much harder to maintain tech-related boundaries, simply because work is never fully out of sight. Nowadays, employers have a responsibility to support people as much as possible with their home-working setup, whether this is budget for equipment (that also supports physical wellbeing) or guidance on how to ensure everyone can build tech breaks into their day."

Hannah, owner, exhale global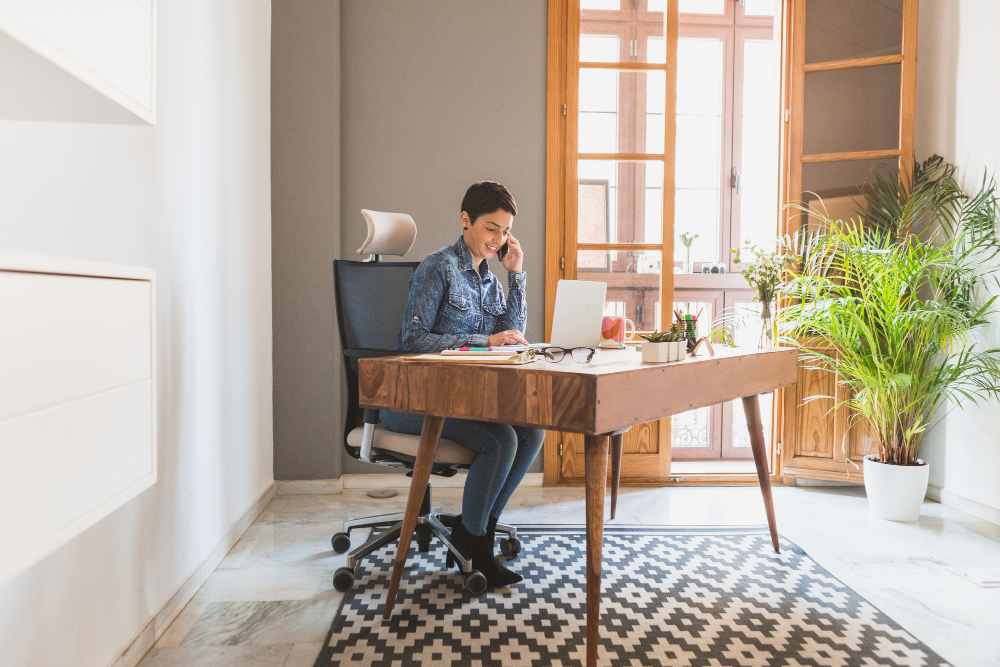 Team members who work from home can struggle to 'switch off' because it's so easy to slip into work mode when your work is also your home. It's important to encourage your employees to set boundaries between their work and personal lives to prevent burnout and resentment of the job. Communicate to them the importance of balance, and giving themselves the opportunity to recharge during personal time and to be more present at home. Research by The National Sleep Foundation recommends unplugging from your devices at least 30 minutes before you go to bed to support restorative sleep and readiness for the following day.  
Encourage breaks during the day
When remote working, lunch breaks can quickly become a thing of the past, with 67% of women and 33% of men claiming they skip lunch breaks when working from home. When you're not surrounded by team members heading off to grab a meal deal, or colleagues calling you to the break room for a sandwich and a catchup, it can be easy to sit and work for 8 hours straight with no break.
This has been proven to negatively affect productivity output as well as increasing poor mental health, with a study finding that taking lunchtime breaks and detaching from work, increases energy levels and decreases exhaustion.
Encourage your team members to take regular breaks (5 minutes away from a screen each hour is recommended) and make sure they are taking a decent amount of time in the middle of the day, away from computers and work related activities. If using messenger apps to communicate, changing their status to Away/On Break can help make sure they are not tempted back by missed messages, and have time to properly recharge before returning to work in the afternoon.
Be the change you want to see
It can be hard for your employees to adopt changes if they aren't seeing these being reflected across the whole company. Team members may struggle to establish boundaries between work and home if they're receiving emails and messages after working hours; they may be less encouraged to take breaks throughout the day if they see their manager's calendar is full of back-to-back meetings from 9-5.
As a manager of a remote team, it's vital you set a good example and make your own wellbeing a priority, so your team follows suit. Try booking your lunch hour into your calendar so your employees see you taking that time for yourself, and try to avoid contacting team members out of hours or over weekends. Tools like scheduling emails to send during the normal work day can support anyone who might choose to be online during evenings or weekends, and in turn, reassure colleagues that they're not under pressure to be connected at all times.
Check-in with team members regularly
Working from home can mean employees don't have the same access to support that those working in an office would receive. And although team members may have chosen to work from home to avoid distractions, it's important to keep in touch with these employees, particularly when it comes to mental health assessments and monitoring.
Those working from home may feel isolated and struggle to reach out for support. This is why extra effort must be made to ensure those working from home are contacted, even something as simple as a phone call can make a big difference to someone who's struggling.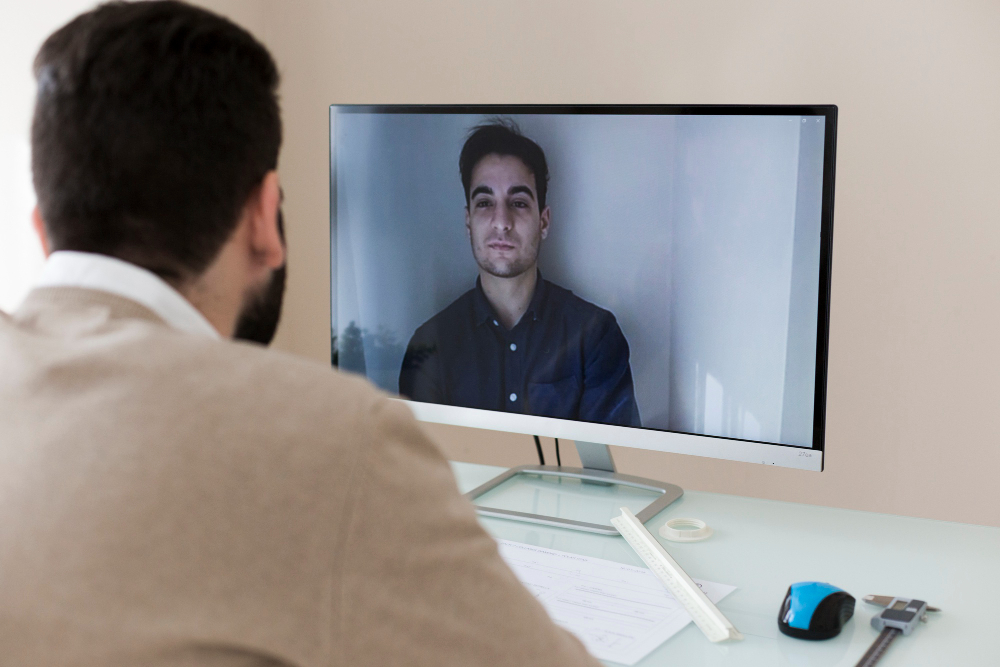 Set realistic goals
When you're sat across the desk from your team members, it can be easy to check-in on how they're managing their goals. Only seeing team members on a quick morning Zoom call may not be a good indication of whether they're struggling to achieve the goals and KPIs that have been set out for them, and it can also be trickier to keep track of their workloads and whether they're becoming overwhelmed.
You won't see it, but remote workers may be working longer hours to keep up with hard-to-reach goals. In an office, they may feel more comfortable pulling you aside for a quick chat to discuss adjusting their workloads, but could find this harder over a dedicated video call. On the flip side, if they feel goals are too easy and they aren't feeling challenged, those that work from home may become disengaged and lack motivation.
Work closely with your employees to create goals that are achievable yet challenging, so they don't feel overwhelmed or detached from their jobs.
Want to support your remote team members?
Giving your WFH team a pat on the back certainly isn't an appropriate substitute for mental health care, but genuine, honest and regular recognition from managers will go a long way in helping them feel appreciated and valued in their jobs. Remember your team is continuously adapting to the new challenges and pressures of working from home, so anything you can do to support them through these new times will be welcomed.
Businesses that work to prioritise the mental health of their entire team, those working from home and those in the office, will create a better experience for everyone and be somewhere that encourages a positive workplace environment. We hope these tips have helped you on the journey to creating this space within your own business.
If you'd like to find out more about how you can best support your employees, take extra care of your own mental health or if you are interested in working with exhale global also, don't hesitate to get in touch with Hannah and her mighty team.
About Intaso
At Intaso we are firm believers that every business has different Cyber/Information Security talent demands. With a wide range of expertise in executive search, in-house, team-build, contingent and consultancy experience we offer a complete set of innovative talent solutions tailored to every organisation no matter what the maturity.
Get in touch today to begin building or growing your team.