Future proofing your Business in 'The New World' post C19
Future proofing your business post C19, a topic that is on everyone's agenda. We have now come to terms with the "new world" businesses can still operate, and we have seen positive change towards new ways of working. They are NOT new; we have just needed a crisis to embrace them.
Intaso recently embraced the new world and hosted a virtual Roundtable for our CxO network, to discuss new trends, ways of working and challenges in the cyber security market. Intaso were joined by David Brown, VP of Zerofox and Lee Watford, Sky Blue Security Director, and current Domino's Pizza Group CISO. The pair brought the opinions and insight of a CISO in industry and the view of a Cyber Security Vendor working in the wider market to help stimulate conversation, focusing on what organisations did as a knee jerk reaction to remote working, what has worked, where we have adapted and how we see businesses functioning going forward.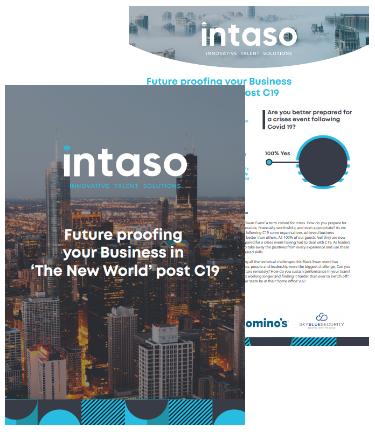 69% have changed their security strategy in the wake of Covid 19
Get Your Free Whitepaper Now