Sustaining peak performance
Intaso recently hosted a virtual Roundtable on Sustaining Peak Performance and were joined by Chris Hodson, Global CISO at Tanium and Adrian Taylor, Director at Bluecap Consulting, a specialist in Performance and Executive Coaching, to discuss the subject within cybersecurity.
Sustaining peak performance is critical within cybersecurity as employees and teams have to defend their organisations, around the clock 24/7. We promised not to say it, but now more than ever in the 'new world', cyber-attacks are on every cybersecurity professional's agenda. This is down to several reasons such as organisations being more vulnerable due to the workforce going remote and organised criminal gangs pumping more money into attacks as other criminal activities become logistically challenging during lockdowns, just to name a few. To protect our organisations and ourselves we need cybersecurity teams performing better than ever.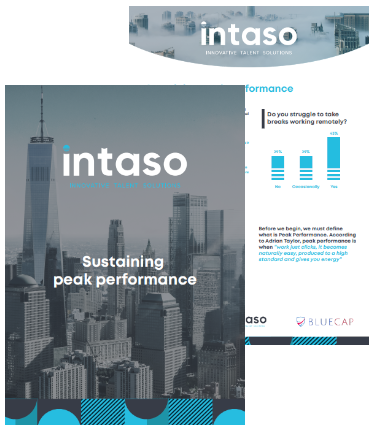 43% struggle to take breaks whilst working remotely
Get Your Free Whitepaper Now